Announcement
ESA Astronauts Visit Chile for ESO's 50th Anniversary in Chile
Public talks by astronauts Claude Nicollier and Pedro Duque among cultural activities offered by Member State embassies
24 October 2013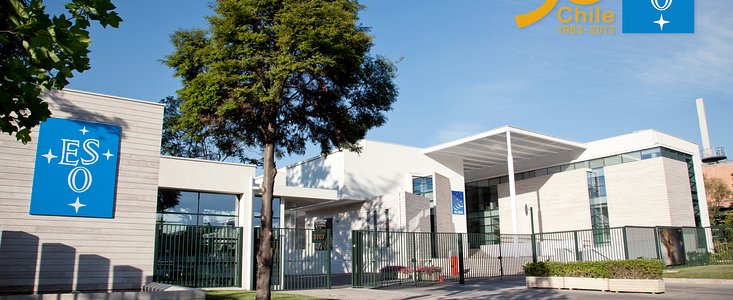 On Tuesday, 29 October 2013, Spanish astronaut Pedro Duque from the European Space Agency (ESA) will be an honoured guest during the meeting Science and Art — 50 Years of ESO in Chile. This event will serve as a kick-off for several cultural events with which the ESO and the Chilean embassies of ESO's Member States will celebrate ESO's 50th Anniversary in Chile and its key contributions to world astronomy (see ESO Top 10 Astronomical Discoveries).
The event with Pedro Duque, who has travelled into space twice, will be held at the Centro Cultural de España, at 19:30, and is being organised by the Spanish Embassy. Pedro Duque will also have a public discussion with Enrique Rivera, President of Chilean Video Corporation and Director of the Biannual Celebration of Media Arts.
"During these 50 years the Government of Chile and ESO have managed to build a scientific and cultural bridge between Chile and Europe. This collaboration has been crucial for both Europe and Chile to reach the position they enjoy today, in the world's astronomical scenario. We want to continue extending this relationship and we are certain that with challenges such as the construction of the Extremely Large Telescope (E-ELT), in the near future, we shall achieve this goal," said Fernando Comerón, ESO Representative in Chile.
In addition, the Swiss Embassy in Chile has organised a meeting with Claude Nicollier, Swiss astronaut from ESA, to be held on 2 December, at 16:00. During this meeting, he will give an account of his spacewalks during his four journeys into space, and will discuss the challenges and benefits of the NASA/ESA Hubble Space Telescope project. The talk will be held at the Universidad Andrés Bello.
Within this commemoration, the Ambassador of the European Union in Chile, HE Rafael Dochao, stated that "ESO is the most important inter-governmental astronomical organisation in the world. To mark these productive 50 years in Chile, we are celebrating with various events. We will also encourage one of ESO's major endeavours through our collaboration with ESO in scientific research. We hope to further strengthen this bridge of science and culture between Chile and Europe during the next 50 years."
During their stay in Chile, both astronauts will visit ESO's Very Large Telescope (VLT), the world's most advanced optical observatory, located on Cerro Paranal in the Atacama Desert of northern Chile.
"The relationship between ESO and Chile is an example of the great achievements that can be reached through international cooperation. Through ESO, we have strengthened our bonds in scientific and astro-engineering areas, with each of the Member States in this organisation. We join the celebrations on this 50th anniversary and renew our commitment towards the protection of the Chilean sky, for the exploration of the cosmos," said Ambassador Gabriel Rodríguez of the Chilean Ministry of Foreign Affairs during an official launch of these activities.
There is more information about the 50 Years of ESO in Chile events here.
Links
Contacts
Francisco Rodriguez I.
Observatorio Europeo Austral (ESO)
Santiago, Chile
Tel: +56 2 24633019
Email: frrodrig@eso.org
Monica Benavides
Delegación de la Unión Europea en Chile
Santiago, Chile
Tel: +56 2 23352450
Email: Monica.BENAVIDES@ext.eeas.europa.eu