Announcement
Take Part in the New Virtual Guided Tours to ESO's Observatories
15 July 2020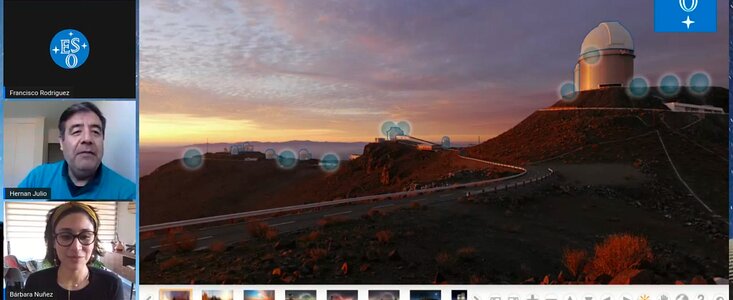 From Saturday 18 July, ESO will start a weekly programme of English virtual guided tours to its Paranal and La Silla observatories. Without leaving your home, you will be able to visit these emblematic places and explore ESO's telescopes in Chile with our specialised guides.
As with the ESO on-site public tours, these new virtual experiences will be free and open to everyone, and will include iconic spots of the observatories, such as the Very Large Telescope (VLT) in Paranal or the ESO 3.6-metre telescope in La Silla.
Visitors will also be able to enjoy a guided tour of the night sky above the observatories and enter restricted access locations, such as the VLT interferometric tunnels.
Based on the ESO Virtual Tours on eso.org, these visits will be led by specialised guides to recreate the experience of walking around the observatories. Each tour takes approximately 30 minutes and will be streamed on the official ESO Facebook page and on the ESO YouTube channel.
Anyone interested can access this new visitor programme without the need to reserve a spot. All the information needed to access the tours and their schedule will be published weekly on ESO's social media on Facebook and Twitter using the hashtag #TourESO.  
The schedule for this week is:   
Tours to ESO's observatories are also available in Spanish. For their schedule follow the ESO Chile Facebook page and Twitter account.
Contacts
Francisco Rodriguez
ESO Press Officer Chile
Santiago, Chile
Tel: +56 2 2463 3051
Cell: +56 9 95994280
Email: francisco.rodriguez@eso.org