Announcement
ESO Director General awarded Order of Bernardo O'Higgins
On behalf of the Organisation, Xavier Barcons was honoured with an important award by the Chilean Ministry of Foreign Affairs
16 December 2020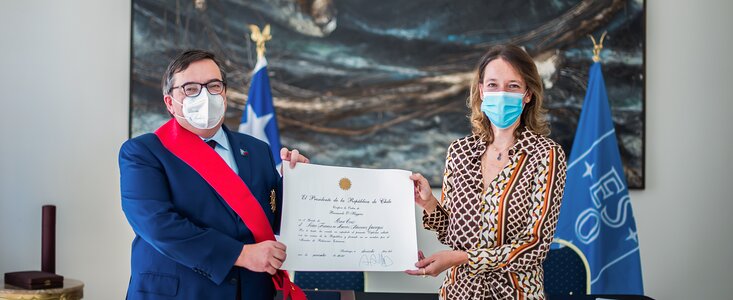 On Friday 11 December, ESO Director General Xavier Barcons received the Order of Bernardo O'Higgins Grand Cross, at a ceremony chaired by Carolina Valdivia, the Chilean Undersecretary of Foreign Affairs.
The Order Bernardo O'Higgins is a recognition by the Chilean State for foreign citizens' outstanding work in the fields of art, science, education, industry, commerce or humanitarian or social cooperation. 
During the ceremony, held at the Ministry of Foreign Affairs, Barcons received the award for paving new ways towards a deeper understanding between Chile and ESO.
"On behalf of the Ministry of Foreign Affairs, I would like to extend our sincere thanks for your collaboration and for helping us boost the establishment of a new astronomical paradigm in our country that is based on a regional, fair, inclusive and citizen-oriented approach. This includes cutting edge cooperation agreements, through which Chile –with its National Research and Development Agency– and ESO can equally contribute to highlight  the scientific and technological work of our fellow nationals worldwide", said Valdivia during the ceremony.
ESO's Director General received the award on behalf of the entire organisation. "Shortly after I took office as ESO Director General, we embarked on this joint journey towards new and more ambitious horizons, promoting true cooperation to help build towards a future that capitalises on  the knowledge society and the fourth industrial revolution", said Barcons.
Contacts
Francisco Rodríguez
ESO Press Officer Chile
Santiago, Chile
Email: francisco.rodriguez@eso.org