ESOcast
Witnessing the Birth of a Distant Cluster of Galaxies (ESOcast Light 259)
Using ALMA, astronomers have detected a large reservoir of hot gas in the still-forming galaxy cluster around the Spiderweb galaxy –– the most distant detection of such hot gas yet. This further reveals just how early these structures begin to form.
All ESOcasts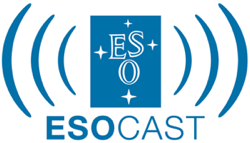 ESOcast is a video podcast series dedicated to bringing you the latest news and research from ESO – Astronomy made on planet Earth.
The ESOcast is offered for download in several formats: standard (.mov, .mpeg, .mp4, .m4v). Information on the specs of the available video formats is accessible on the Video Formats Page.
ESOcast HD videos can be watched on TV by the use of digital media receivers such as Apple TV.
Standard Definition (640 x 480)
ESOcast SD
ESOcast SD in iTunes
ESOcast SD in Digital Podcast
High Definition (1280 x 720)
ESOcast HD
ESOcast HD in iTunes
ESOcast HD in Digital Podcast
ESOcast HD in Podcast Pup
The ESOcast is also available on: