ELT Groundbreaking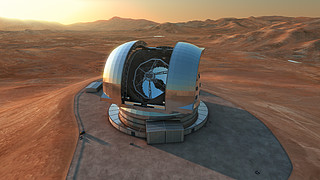 On Thursday 19 June 2014 there will be a media event at ESO's Paranal Observatory in northern Chile to mark the blasting of the top of Cerro Armazones, the 3000-metre peak that will be the home of the Extremely Large Telescope (ELT).
The ceremony will be attended by VIPs from both Chile and the ESO Member States as well as representatives of the local communities, senior officials from the project and ESO staff. It will be a significant milestone in the construction of the largest optical/infrared telescope in the world.
A live video stream will be webcast on Livestream from 16:30 UTC until around 18:30 UTC (18:30-20:30 CEST) (may have to be changed at the last moment).
The livestream can be played back immediately when it stops at 20:30 CEST in 720p (high compression - 1-5 Mbit/s).
We are planning to be able to publish higher quality footage for download in a press release on eso.org at 23:00 CEST (in 1080p).
Pictures of the big blast will also be distributed to Eurovision members on the Eurovision Permanent News Network channel soon after.
On 20.6 at 18:00 CEST we will publish a longer Video News Release on www.eso.org also (also 1080p).
Participants can also follow the live tweeting done by @ESO under the hashtag #EELTblast and ask questions in English that we will try to answer in real time as much as possible.
Limited places are still available for members of the media to attend in person the ceremony and to visit ESO's Paranal Observatory. Please express your interest before Friday 23 May by filling out the ESO media visit form, noting that you wish to attend the ELT Groundbreaking event under "Objective of the Visit." Please note that further details are available here.
Television broadcasters who cannot make it to the event will be offered full broadcast quality video material of the blast for download soon after the event is finished. The material may also be made available through the European Broadcasting Union.
Public observatories, planetariums, science centres and other educators are invited to take advantage of the live video stream by organising local events, as a means to attract visitors to their venue and offer them the chance to witness this important milestone in astronomy. The logistics of a basic event are minimal: a good internet connection, a screen to project the video stream and a venue with sufficient space. To help announce the event in the local media, organisers can get in touch with their local ESO Science Outreach Network (ESON) representative.
For updates leading up to and on the day of the event, check our website and follow ESO on Facebook. You are also encouraged to keep us informed if you plan to organise an event by sending an email to osandu@partner.eso.org so that we can promote it through ESO's communication channels.