Danish Involvement with the European Southern Observatory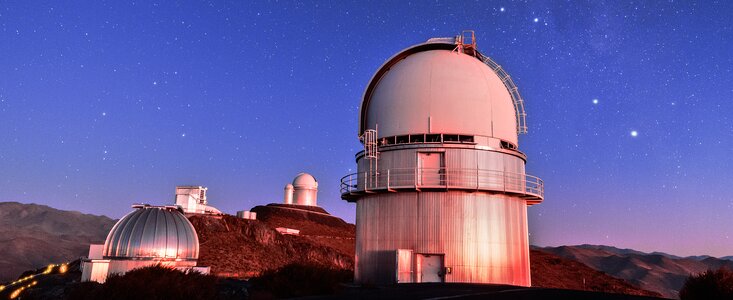 Photograph showing several telescopes at La Silla Observatory, with the Danish 1.54-metre telescope in the foreground. Credit: Sangku Kim/ESO
Denmark joined ESO as a Member State on 24 August 1967. Ever since, the Danish scientific community has been involved in significant discoveries made with ESO telescopes and Danish institutions and industry have contributed to the development of instruments and telescopes.  
Denmark currently contributes 1.93% of ESO's revenue (2021 contribution), worth 3 706 000 EUR. 
As of mid 2022, there are seven Danish nationals employed at ESO, six in Germany and one in Chile. Furthermore, ESO has awarded five studentships and nine fellowships to Danish nationals since 2004. 
Denmark is represented in the various ESO governing and advisory bodies by astronomers and policy experts; the current Danish representatives of ESO's various committees with national representation can be found here. 
The ESO Science Outreach Network (ESON) includes Danish representatives who act as ESO's media and outreach local contacts. 
Here follows some information about Danish involvement with ESO. 
Discoveries by Danish-based astronomers using ESO telescopes 
Danish astronomers and astronomers working at Danish institutes were involved in the many scientific discoveries done with ESO telescopes. For example: 
Danish involvement in ESO instruments and telescopes at ESO sites 
Denmark is contributing to many aspects of ESO, with Danish institutions behind already existing and upcoming instruments based at telescopes on ESO sites. These include:  
Danish involvement in ELT instruments 
In 2013, Denmark confirmed its participation in ESO's upcoming Extremely Large Telescope (ELT). The country will contribute to many aspects of the telescope, including the development of ANDES, the ELT instrument that will study astronomical objects with unprecedented sensitivity. The Niels Bohr Institute at Aarhus University participates in the consortium that is developing ANDES.  
Danish industry and technology contributions to ESO 
Danish industry has been awarded significant contracts by ESO. For example, Terma A/S, a global company with Danish roots, has been awarded multiple contracts for IT service provision. Denmark's Polyteknik AS was contracted to overhaul the 8m-mirror-coating plant at ESO's Paranal Observatory. 
Danish industry contributions to the ELT 
Danish companies have also been awarded significant contracts related to ESO's ELT, including 
Ramboll: for consulting services during the procurement for the ELT dome and main structure. 
Force Technology: awarded two contracts related to the ELT wavefront real-time computer. 
IPU: did the process study of the ELT protected silver coating removal. 
Kirkholm Maskiningeniorer A/S: worked on the conceptual design of the ELT prefocal station.