Detection of nickel in the atmosphere of interstellar comet 2I/Borisov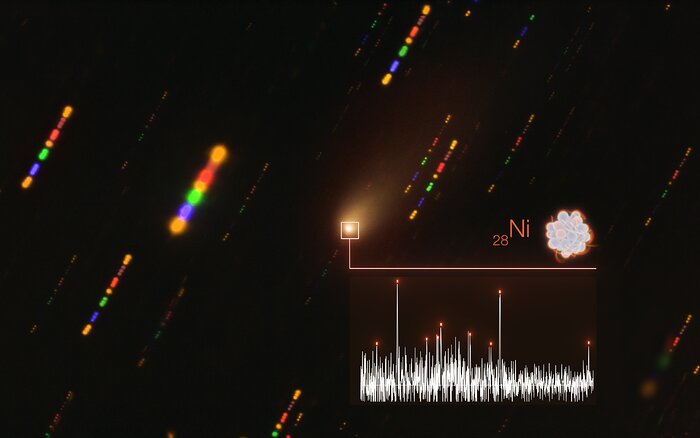 The detection of nickel (Ni) in the fuzzy atmosphere of the interstellar comet 2I/Borisov is illustrated in this image, which shows the spectrum of light of the comet on the bottom right superimposed to a real image of the comet taken with ESO's Very Large Telescope (VLT) in late 2019. The lines of nickel are indicated by orange dashes.
The spectrum was obtained with the X-shooter instrument on the Unit Telescope 2 (UT2, Kueyen) on ESO's VLT, which separates incoming beams of light into their constituent wavelengths (equivalent to colours). With the ability to acquire data from near-infrared to the ultraviolet wavelengths simultaneously, X-shooter is one of the most versatile optical instruments in use.
Credit:
ESO/L. Calçada/O. Hainaut, P. Guzik and M. Drahus
About the Image
| | |
| --- | --- |
| Id: | eso2108b |
| Type: | Collage |
| Release date: | 19 May 2021, 17:00 |
| Related releases: | eso2108 |
| Size: | 4000 x 2500 px |
---
About the Object
---
Image Formats
---
Zoomable
---
Wallpapers
---