Art at ESO
ESO believes that the special combination of art and science can engender new and exciting opportunities for both fields. The beauty in all science is undeniable, but this is perhaps truest in astronomy, where the most stunning objects in the Universe are unveiled. The brilliant colours, impossible shapes, and mind-boggling structures of these astronomical phenomena can provide endless inspiration to artists, while their imagination can conjure up awe-inspiring impressions of distant worlds and systems — the likes of which science can only dream of achieving.
ESO has worked with several distinguished artists to showcase and share some of the most advanced technologies and telescopes in the world with audiences who might otherwise not be aware of their work. Ambitious art installations integrated with modern astronomical facilities, such as the works by Dagmara Wyskiel, have helped to highlight the depths of imagination required for both fields.
Astronomers at ESO facilities themselves have also turned their hand to art. Ulrike Kuchner — a researcher formerly at ESO's Very Large Telescope (VLT) — has used the very same telescope data not only to study colliding galaxies but to produce a visual art installation by enlarging and rearranging its printed, physical form.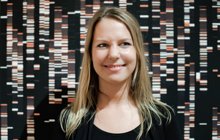 In order to further its outreach into the field of art, ESO has in the past invited interested artists to apply to be considered for a residency at one of its observatories in Chile, which house some of the world's leading telescopes. This incredible opportunity is offered in partnership with the Ars Electronica Centre in Linz, Austria, part of the Art & Science Network, and aims to provide a bridge between the worlds of science and digital art that will foster and strengthen the intercultural bonds between the two disciplines and to reach and grow new audiences. In 2016, a German artists' collective, Quadrature, won the chance to visit ESO's telescopes in Chile. Their incredible journey is documented here. Applications to the ESO-Government of Chile Joint Committee are also welcome. This is a collaboration that aims to develop astronomy and scientific culture through, among other approaches, outreach programmes for the general public.
ESO is committed to offering full exploitation of its images, texts, videos and data, for artistic pursuits. Examples in the past have included audio remixing of radio signals received by the Atacama Large Millimetre Array (ALMA) from distant objects in the Universe. The ALMA Music Box is a Japanese project which has created beautiful and sad melodies from the radio emissions of a distant, dying star as it depletes the last supplies of its fuel. ALMA Sounds is bringing together artists and astronomers in the search for a common language.
A major new public building in Garching bei München, the ESO Supernova Planetarium & Visitor Centre, offers a wide range of educational exhibitions and resources, as well as planetarium shows and guided tours.