Announcement
Funding boost for ESO's Extremely Large Telescope
4 December 2020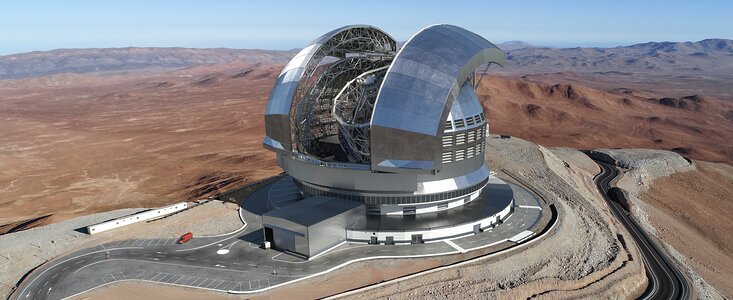 The Extremely Large Telescope (ELT), ESO's new flagship telescope being built to answer the biggest questions about our Universe, has received a 10% increase to its budget. The funding boost approved by the ESO Council — the organisation's main governing body — brings the total cost of the project to €1.3 billion. The 39-metre telescope, being erected in Cerro Armazones near ESO's Paranal Observatory in northern Chile, will start operating later this decade.
"Council's decision means ESO has the funds to build an ambitious and extremely powerful science machine, fully integrated with ESO's Paranal Observatory, that meets the longer-term aspirations of the astronomy community," says ESO Director General Xavier Barcons. Overall, 80% of the ELT's budget is being invested in contracts with industry in ESO member states and in Chile. 
The funding boost will strengthen the scientific capabilities of the under-construction telescope, bringing them in line with those envisioned in the original ELT programme approved by Council in 2012. Two years later, ESO Council gave green light for ELT construction but stipulated that it should occur in two phases, with funding only committed for a fully working but less-powerful 'Phase 1 ELT'. 
The revised budget includes the procurement of components originally deferred to the second phase of the project, such as the telescope's second prefocal station, two more laser guide star systems, a set of astronomy-relevant atmospheric monitoring equipment and a small technical building at Armazones to optimise operations and maintenance activities. The new budget incorporates the impact on cost and schedule of known technical risks and includes the cost of activities needed to bring the ELT into operation as part of ESO's Paranal Observatory.
The funding boost follows an ELT total cost exercise that started in 2019. The exercise is an example of ESO's continuous monitoring of the project and dedication to delivering a pioneering telescope that will  tackle the biggest astronomical challenges of our time and make yet unimaginable discoveries. A truly international endeavour, this ambitious and exciting ESO project is made possible thanks to the organisation's staff and governing bodies, the astronomy community, industry and scientific institutions in member states, as well as to the host state of Chile.
Contacts
Xavier Barcons
Director General
Garching bei München, Germany
Email: dg@eso.org
Roberto Tamai
ELT Programme Manager
Garching bei München, Germany
Tel: +49 89 3200 6367
Email: rtamai@eso.org
Bárbara Ferreira
ESO Public Information Officer
Garching bei München, Germany
Tel: +49 89 3200 6670
Email: pio@eso.org